Latest news
October 23, 2015
Highclere Thoroughbred Racing's yearly parade of the magnificent yearlings up for syndication with Harry Herbert and his team was a huge success. The yearlings that have been bought by John & Jake Warren over the recent sales period were shown to perfection by our team in front of a big crowd of current and potential owners who then enjoyed a delicious lunch with champagne flowing.
Harry Herbert and John Warren explain the rigorous process involved in finding and purchasing these particular yearlings.
October 14, 2015
Highclere Stud held one of  the top spots again at Tattersalls Book 1 with the second highest sales total out of all of the consigners. It was a long two weeks for our hard working staff who helped prepare and show the 53 yearlings over all 3 books to the very highest standard. Well done and thank you to everyone involved!
Above: Lot 62, Raven's Pass ex Artisti filly. Consigned by Highclere Stud on behalf of Rabbah Bloodstock. Bought by Tony Nerses for 420,000gns.
Above: Lot 339 Frankel ex Model Queen colt. Bred, reared and sold by Highclere Stud to China Horse Club for 670,000 gns,
Above: Lot 437 Oasis Dream ex Seta colt. Sold by Highclere on behalf of Sarah J Leigh's estate to Blandford Bloodstock for 420,000 gns.
October 10, 2015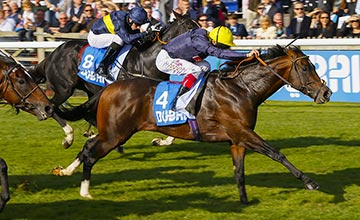 A very exciting day for Highclere Stud who welcome Cable Bay home as a stallion having ended his racing career on yet another high, winning the Gr.2 Dubai Challenge Stks, 7f, at Newmarket yesterday! Trained by Charlie Hills and ridden to triumph by Frankie Dettori.
Cable Bay has also won the Gr.3 Jury Stakes at Haydock AND the Pychley Maiden Stks at Leicester as a 2yo.
He came 2nd in the Gr. 1 Dewhurst Stakes in Newmarket, the Gr.2 Richmond Stks at Goodwood, the Gr.3 Sommerville Tattersalls Stks in Newmarket AND the Challenge Stks in Newmarket.
He came 3rd in the Gr.2 Champagne Stks in Doncaster, the Gr.2 Summer Mile Stks in Newmarket AND the Gr.3 Gladness Stks at the Curragh.
Cable Bay is the highest rated 2yo by Invincible Spirit at stud in the UK and Ireland.
He recorded a faster time in the Gr.1 Dewhurst than Frankel, Shamardal, Nijinsky, Mill Reef, Teofilo, The Minstrel, Rock of Gibralta..